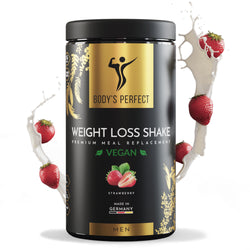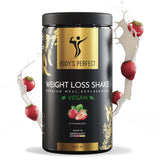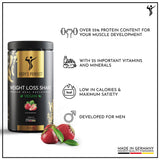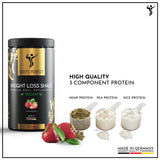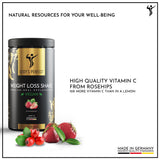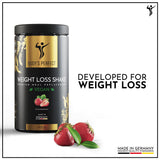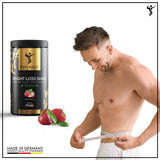 Weight Loss Shake vegan - for men
incl. VAT excl. shipping costs
Our top seller for losing weight!
Our unique Weight Loss Shake contains over 25 important vitamins, minerals and trace elements, which provides your body with optimal care during your weight loss phase.
Filling weight: 500g
Sales description
: Meal replacement for a weight-controlling diet
YOUR VEGAN POWER SHAKE - FUEL YOUR BODY!
100% Premium Quality - Made in Germany
Specially developed for the needs of the male body
With 25 important vitamins, minerals and trace elements
With high-quality VEGAN PROTEIN
Maximum nutrients - Minimal calories
Reliably saturates for up to 5 hours
No more cravings
Zinc & Selenium for the maintenance of male potency
HOW DOES THE SHAKE WORK?
Losing weight is often anything but healthy. Many of us struggle through numerous unsuccessful diets without even realizing what they are doing to our bodies. Too often, so-called crash diets cause malnutrition. In retrospect, this only means that you have consumed far too little food and therefore important nutrients. Hereby you lose more water and muscle mass than fat. A diet like this cannot be sustainable in the long run - the body switches to "emergency mode" and this, in turn, leads to uncontrollable cravings and thus to the well-known yo-yo effect. Our shakes put an end to hunger and malnutrition! By replacing two of your three main meals a day, you can achieve the calorie deficit your body needs in order to lose weight without starving. High-quality vegan proteins, 25 important vitamins, minerals and trace elements, nutritious oats and the purely plant-based ingredient Glucomannan effectively replace a complete main meal.
OUR VALUES
Nutrition facts 50g powder Weight Loss Shake vegan for men.
"SEDUCTIVELY GOOD TASTE"
Taste is an extremely important criterion when it comes to putting together the perfect supplement repertoire. After all, we have to take our supplements on a daily basis. Therefore, it was particularly important for us to develop a meal replacement that we look forward to every day! Do you love the taste of strawberries? Customers worldwide are thrilled. Preparation tip: 50g shake powder with vegan milk + frozen or fresh fruit, depending on your preference. There are no limits to your imagination when creating a new, healthy shake that helps you lose weight on a daily basis.
ENHANCES YOUR WELL-BEING
It is extremely important to provide the body with valuable resources every day. Our high-quality meal replacement contains all these valuable ingredients such as vitamins, minerals and trace elements as well as high-quality vegan proteins and a low proportion of high-quality carbohydrates. Our Weight Loss Shake not only supports you in losing weight, it is also a beneficial daily companion to keep your body fit and healthy.
BEST VEGAN PROTEIN FOR YOUR MUSCLE POWER!
Especially during the weight loss phase, it is important to consume enough protein so that the muscles are not weakened. Of course, you want to lose as much fat as possible without affecting the muscle mass negatively - our shakes contain up to 40g of the highest quality proteins, which have been combined in an optimal ratio with valuable substances in order to ensure the best possible protein intake. Many valuable ingredients such as vitamins, minerals and trace elements optimally support your bodily functions, strengthen your bones and serve as a power boost for your training!
Flavour: Strawberry
Ingredients: Pea protein isolate, malto dextrin, strawberry fruit powder, rice protein concentrate, natural flavouring, konjac root powder (glucomannan and sulphites), magnesium salts of citric acid, potassium salts of orthophosphoric acid, inulin, hemp seed protein powder, linseed flour, calcium carbonate, bromelain, beetroot powder, salt, release agent: silicon dioxide, thickener: xanthan, rose hip fruit extract, L-arginine hydrochloride, calcium beta hydroxy beta methyl butyrate, sweetener: sucralose, zinc sulfate, iron sulfate, D-alpha tocopherylvacetat, nicotinamide, sodium molybdate (molybdenum), Calcium D-pantothenate, manganese sulfate, retinyl acetate, cooper sulfate, cyanocobalamin, cholecalciferol, pyridoxine hydrochloride, phylloquinone, thiamine hydrochloride, riboflavin, sodium selenite, chromium (III) chloride, pteroylmonoglutamic acid, Potassium iodide, D-biotin
Nutritional value
per meal
Energy
1117 kJ / 267 kcal
Fat
- of which saturated fatty acids
5,3 g
1,1 g
Carbohydrates
- of which sugar
27 g
17,5 g
Roughage
5,35 g
Protein
26,5 g
Salt
0,82 g
Strawberry fruit powder
3,4 g

Konjac root powder




- of which are glucomannan

1,6 g




1,5 g

Magnesium
190 mg
Kalium
500 mg
Phosphorus
210 mg

Inulin

1,0 g
Linseed flour
1,0 g
Calcium
412,5 mg
Bromelain
500 mg
Beetroot powder
500 mg
Sodium
201 mg
Vitamin C
40 mg
L-Arginine
50 mg
3-hydroxy-3-methylbutyric acid
50 mg
Zinc
7,0 mg 
Iron
10,0 mg
Vitamin E
6,0 mg 
Niacin
4,0 mg
Molybdenum
25,0 

µg

Panthothenic acid
3,0 mg
Manganese
1,0 mg
Vitamin A
400 

µg

Copper
502,5 

µg

Vitamin B12
1,25 

µg

Vitamin D
2,5 

µg

Vitamin B6
2,5 

µg

Vitamin K
37,5 

µg

Vitamin B1
0,5 mg
Vitamin B2
0,7 mg
Selenium
56,2 

µg

Iodine
76 

µg

Chrome
20 

µg

Folic acid
100 

µg

Biotin
25 

µg
WEIGHT LOSS SHAKE Vegan (meal replacement)
For the preparation of a meal add 50 g powder (2 measuring spoons), 2 tsp vegetable oil * and 400-500ml water and vegetable milk in the following ratio: 50% water, and 50% vegetable milk, preferably unsweetened oat milk (optional soy, almond, rice - or coconut milk) in a shaker or blender and mix this.
* Vegetable oil with a lot of unsaturated fatty acids.
1. Acclimatization:
Our high-quality meal replacement provides you with everything your body needs to stay fit and active and in a low-calorie composition. Due to the versatile ingredients, we recommend a familiarization phase of 3 days. You replace one meal a day with a shake for the first 3 days.
2. Weight reduction:
In the weight loss phase, you replace two meals a day with one of our shakes until you reach your desired weight (day x). We definitely recommend replacing dinner with one of our shakes. Whether you prefer to enjoy your second shake as breakfast or lunch is entirely up to you.
3. Hold weight:
When you have reached your desired weight, it is now a matter of avoiding the yo-yo effect. The best way to do this is to gradually get your body used to the old circumstances. This means: Even during the weaning phase, you should take into account that your body has to get used to a change again. The best way to do this is to replace one meal daily with one of our shakes after your reduction phase for at least 10 weeks.
NOTE: Every body has to be prepared to take additional substances. Depending on age and diet, some ingredients only take effect after several weeks. In order to achieve the best long-term success, you should take our products for a longer period (we recommend at least 10 weeks). The time of taking meals is crucial! To achieve the best results in losing weight, we recommend taking the last meal of the day or the shake by 6 p.m. at the latest. If another meal is later taken, it should be as small and low in calories as possible. Taking meals late in the evening not only badly affects your digestion, it also affects your sleep, which also negatively affects your weight loss.
Frequently Bought Together: