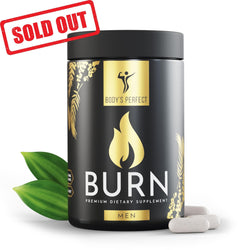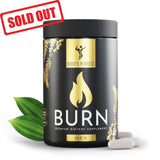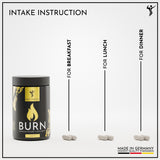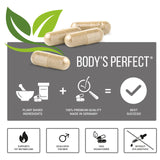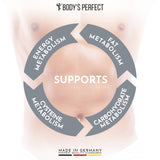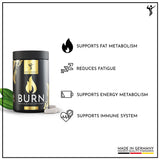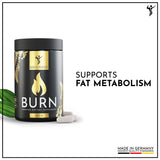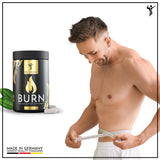 BURN capsules for men
(

36.35 €

/100g) incl. VAT excl. shipping costs
120 capsules
20 perfectly combined ingredients support your fat and energy metabolism, your muscle functions and reduce fatigue.
Sales description: Food supplement with plant substances, vitamins and caffeine.
YOUR DAILY VITAMIN BOMB
| | |
| --- | --- |
| MULTI METABOLISM COMPLEX with 20 ingredients | Developed for men |
| Supports your fat metabolism | Supports your muscle functions |
| Supports your digestion | Reduces fatigue |
| Promotes blood circulation | Natural energy booster |
| 100% Premium Quality – Made in Germany | Supports your immune system |
| Vegan and 100% pure plant-based shell | No fillers - no dyes |
100% VEGAN POWER – FAT METABOLISM ACTIVATOR
Our BURN capsules, specially optimized for men, were developed by our experts according to the latest scientific knowledge. The BURN capsules consist of 20 study-based ingredients and serve as a metabolic complex for your body. They contribute to the following normal functions of the body: carbohydrate metabolism, fat metabolism, energy metabolism, homocysteine metabolism, thyroid function, cystein synthesis, liver function, digestive enzyme function, protection against oxidative stress, reduction of tiredness and fatigue, regulation of hormonal activities, electrolyte balance. They also contribute to many other important bodily functions, such as: a normal functioning of the immune system. 20 STUDY-BASED INGREDIENTS: MACA ROOT Extract, Prickly Pear Powder, L-Carnitine, White Kidney Bean Powder, Ginger Rootstock Powder, Guarana Seed Extract, Black Pepper Fruit Extract, Ceylon Cinnamon Powder, Cayenne Pepper Powder, Choline, Green Tea Powder, Green Coffee Bean Extract, magnesium, caffeine, vitamin B6, vitamin C, zinc, calcium, citrus extract, selenium.
100% QUALITY - NO COMPROMISE
The ingredients contained in our BURN capsules come directly from nature and are real energy bombs! -

NO CHEMICALS!

Mother Nature offers us many unique ingredients and rich and rare variety such as the prickly pear or the MACA root - we have used these and other special fruits and plants to develop this unique product. Studies confirm the effectiveness of our ingredients!
Ingestion & correct dosage
We recommend taking 6 capsules with a large glass of water on a daily basis. We recommend taking 3 capsules a day for the first week (acclimatization phase), and 6 capsules a day as of the second week. Intake times: 2 capsules in the morning (for breakfast), 2 capsules at noon (for lunch), 2 capsules in the evening (for dinner) no later than 6:00 p.m. The capsules should be taken for at least two months, as some ingredients only respond after taking them consistently for several weeks. 
Without dyes, without fillers
Our BURN capsules consist purely of natural and carefully selected ingredients that have been carefully processed. For the capsule shell, many manufacturers use animal gelatine (lard) as well as coloured (also white) capsules, which are harmful to our health due to the colouring agents. We guarantee the highest quality here too. Our capsules are made from 100% plant-based raw materials and don't contain harmful colourings or fillers.
Ingredients: calcium carbonate, coating agent: hydroxypropylmethyl cellulose
(vegetable capsule shell), green tea powder, maca root powder, L-carnitine, green tea extract, choline bitartrate, green coffee bean extract, ginger rootstock powder, magnesium oxide, ceylon cinnamon powder, L-ascorbic acid, cayenne pepper powder, white kidney bean powder, prickly pear powder, caffeine, zinc oxide, synephrine hydrochloride, pyridoxine hydrochloride, black pepper fruit extract, sodium selenite.
Ingredients
per daily dose
Calcium
400 mg
Maca root powder
500 mg
Green tea powder
500 mg
L-Carnitine
250 mg
Green tea extract
- of which polyphenols
225 mg
121,5 mg
Choline
82,5 mg
Green coffee bean extract
- of which chlorogenic acid
200 mg
100 mg
Ginger root powder
200 mg
Magnesium
93,8 mg
Ceylon cinnamon powder
150 mg
Vitamin C
120 mg
Cayenne pepper powder
100 mg
Prickly pear powder
100 mg
White kidney bean powder
100 mg
Zinc
15 mg
Caffeine (total)
121,5 mg
Synephrine
6,7 mg
Black pepper fruit extract
- of which piperine
2,63 mg
2,5 mg
Vitamin B6
4,2 mg
Selen
55 µg
Take 2 capsules daily in the morning, 2 before lunch and 2 before 5 o'clock in the evening with a glass of water.
Recommendation
In order for the body to get used to the additional substances as best as possible, we recommend starting with only one capsule on the first day and increasing it by one capsule daily until the indicated daily intake of 6 capsules is reached.
NOTE
All bodies have to adapt to the intake of additional substances. Depending on your age and diet, some ingredients may only work after being taken for several weeks! In order to achieve the best results and long-term success you should take our products over a longer period of time, we recommend at least 10 weeks.
Meal timings are crucial
In order to achieve the best results when losing weight, we recommend taking the last meal of the day or shake by 6 o'clock in the evening. Should another meal be eaten afterwards, it should be as small and as low in calories as possible. Eating meals too late in the evening not only affects your digestive system negatively, but your sleep as well, which in turn affects your weight loss badly.
Frequently Bought Together: